PACKAGING. SERIALISATION. KITTING.
We take over the pack­ag­ing, repack­ag­ing and kit­ting of your med­i­c­i­nal prod­ucts, drugs, food sup­ple­ments and cos­met­ics. This saves resources and allows you to con­cen­trate on your core busi­ness. Thanks to our man­u­fac­tur­ing license accord­ing to AMG §13 and our quar­an­tine stor­age facil­i­ty, we can take in and process both released and unre­leased med­i­c­i­nal prod­ucts at any time. For the pack­ag­ing and final pro­cess­ing of med­ical prod­ucts, we are your per­fect part­ner due to our ISO 13485 cer­ti­fi­ca­tion.

Man­u­fac­tur­ing license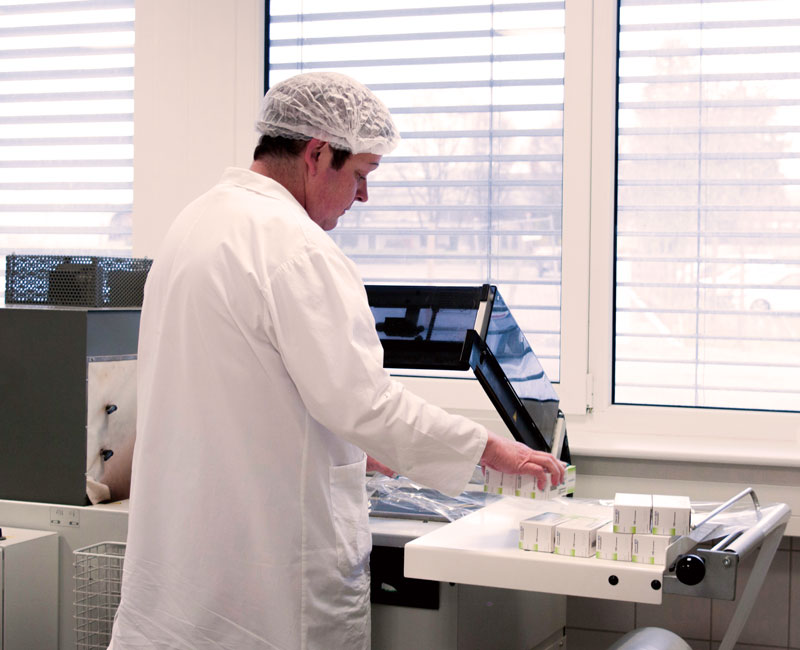 In addi­tion to logis­tics ser­vices, we offer you our ser­vices in the fur­ther pro­cess­ing and pack­ag­ing of your prod­ucts. This includes the pro­fes­sion­al pack­ag­ing of items — cus­tomized to your spec­i­fi­ca­tions. We can even guar­an­tee you a par­tic­u­lar­ly flex­i­ble exe­cu­tion in case of short-term changes of the pack­ag­ing. Our ser­vices regard­ing the pack­ag­ing are:
The EU Direc­tive 2011/62/EU has made seri­al­i­sa­tion a manda­to­ry require­ment for phar­ma­ceu­ti­cal com­pa­nies with­in the EU. Since Feb­ru­ary 2019, pre­scrip­tion drugs have been required to car­ry a ser­i­al num­ber on the pack­ag­ing to allow clear iden­ti­fi­ca­tion of the prod­uct. Even though this mea­sure makes drugs more coun­ter­feit proof, it also con­fronts man­u­fac­tur­ers with new chal­lenges. To ensure that you meet these increased require­ments, we will pro­fes­sion­al­ly han­dle seri­al­i­sa­tion for you, whether for small or large quan­ti­ties: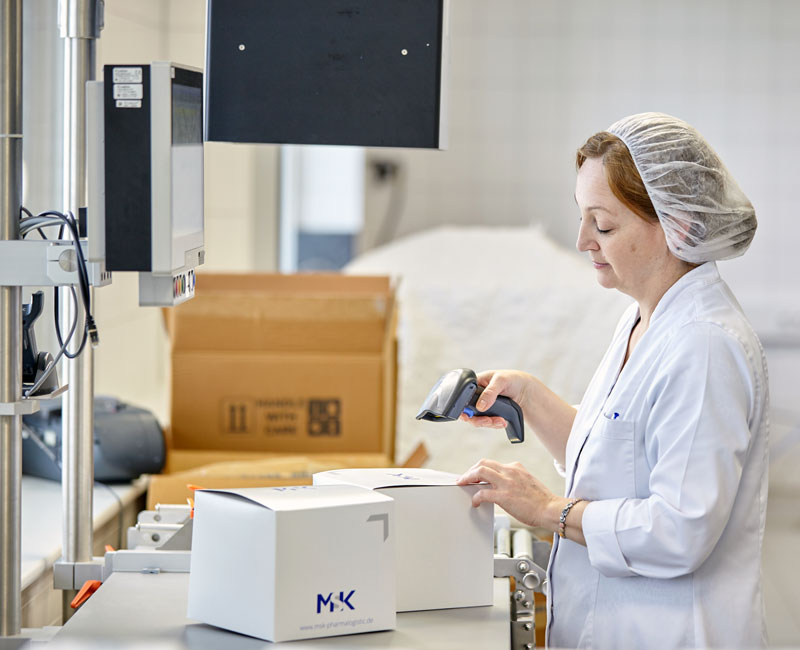 We unite what belongs togeth­er. With high­est pre­ci­sion we exe­cute your projects in the fields of kit­ting, copack and build-to-order. To enable you to opti­mize your val­ue-added chain, we offer you max­i­mum flex­i­bil­i­ty and exten­sive exper­tise. If required, we can also sup­port you in mate­r­i­al acqui­si­tion and reg­u­la­to­ry mat­ters. When you con­sult with us, you turn our advan­tages into your com­pet­i­tive edge:
Pack­ag­ing require­ments are becom­ing increas­ing­ly com­plex. Flex­i­bil­i­ty and qual­i­ty in this area are real com­pet­i­tive advan­tages.
Kai Peter­mann — Head of Man­u­fac­tur­ing
Order pro­cess­ing and dis­patch­ing of elec­tron­i­cal­ly trans­mit­ted orders
Repack­ag­ing accord­ing to GMP and ISO
Pro­cess­ing and ship­ping of goods to whole­salers, food retail­ers and phar­ma­cies
Com­pli­ance with the GDP guide­lines
Han­dling of return man­age­ment
Pack­ag­ing and spe­cial sales pro­mo­tion.
ARE YOU READY TO UPGRADE
YOUR PACKAGING TO THE NEXT LEVEL?